Marbella
Marbella is perhaps the most exclusive seaside resort of the Costa del Sol. There is always something to do here all year round. What used to be a small white fishing village, has become one of the most popular seaside resorts of the Costa del Sol.
The life of your dreams...
...build up your new home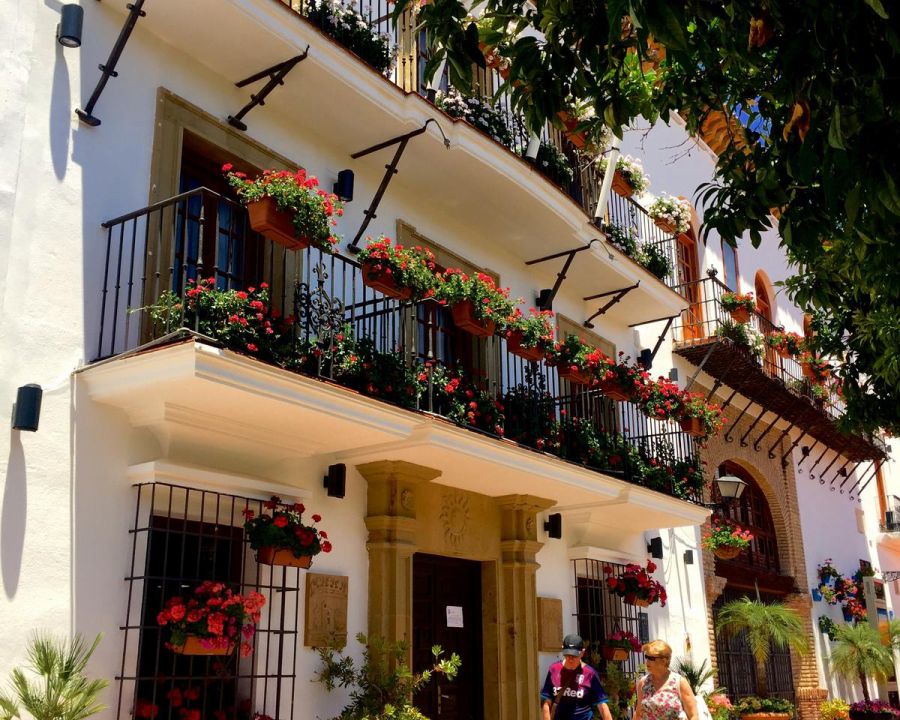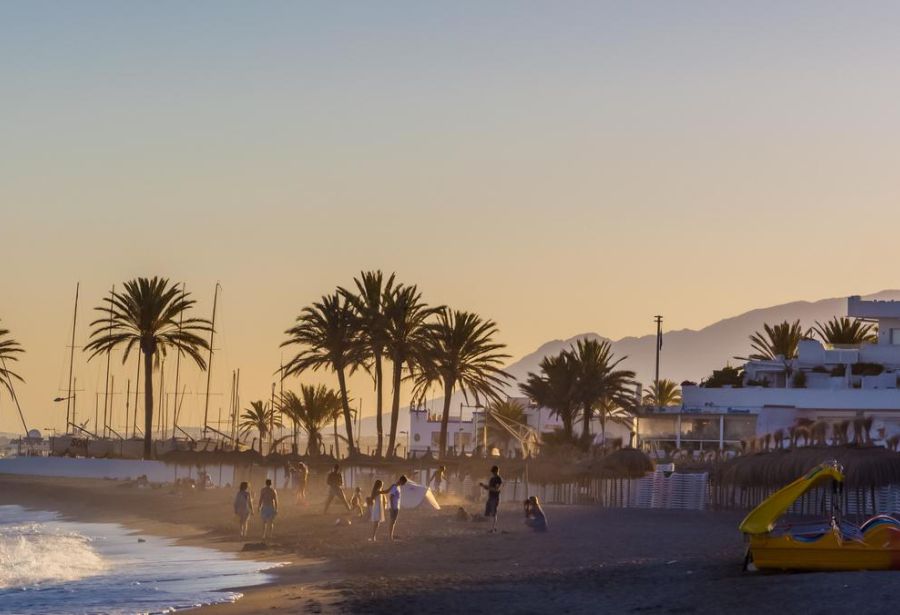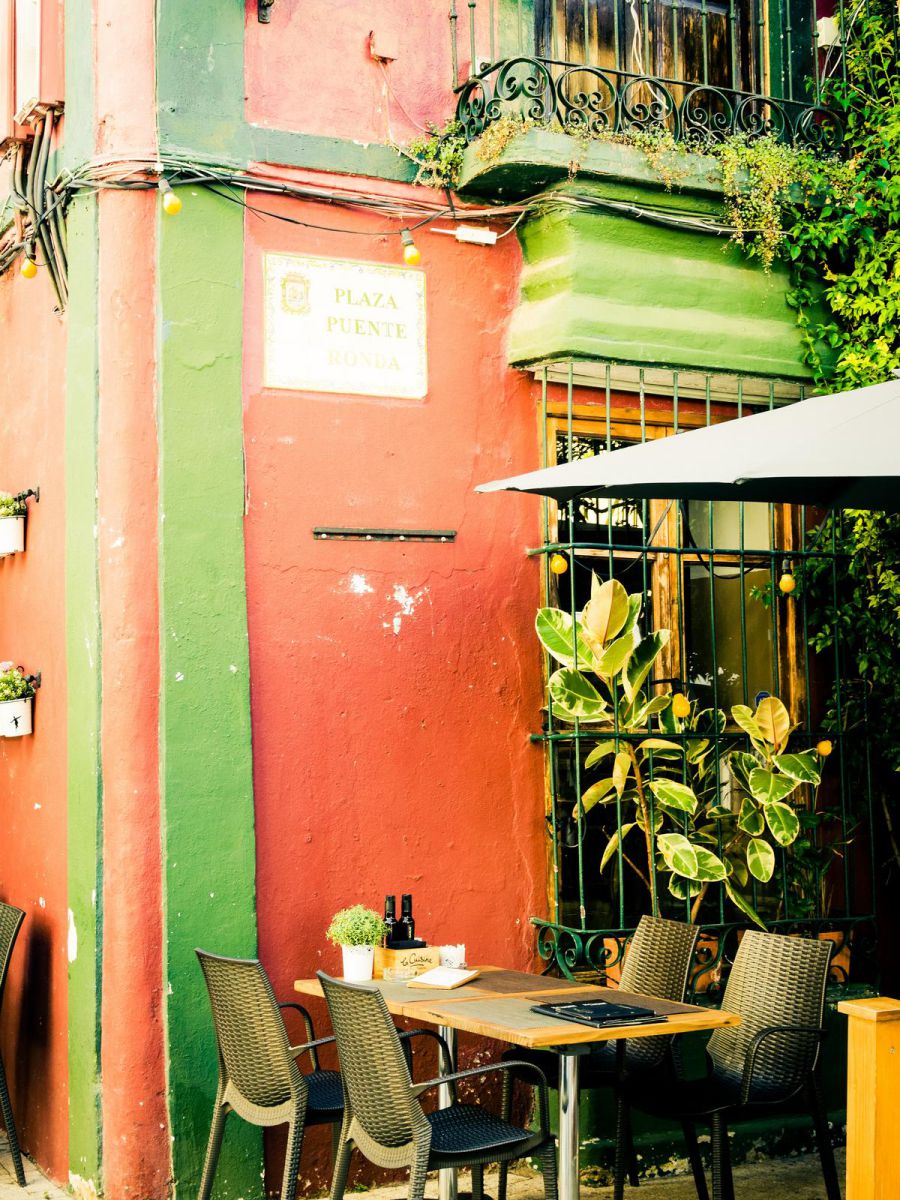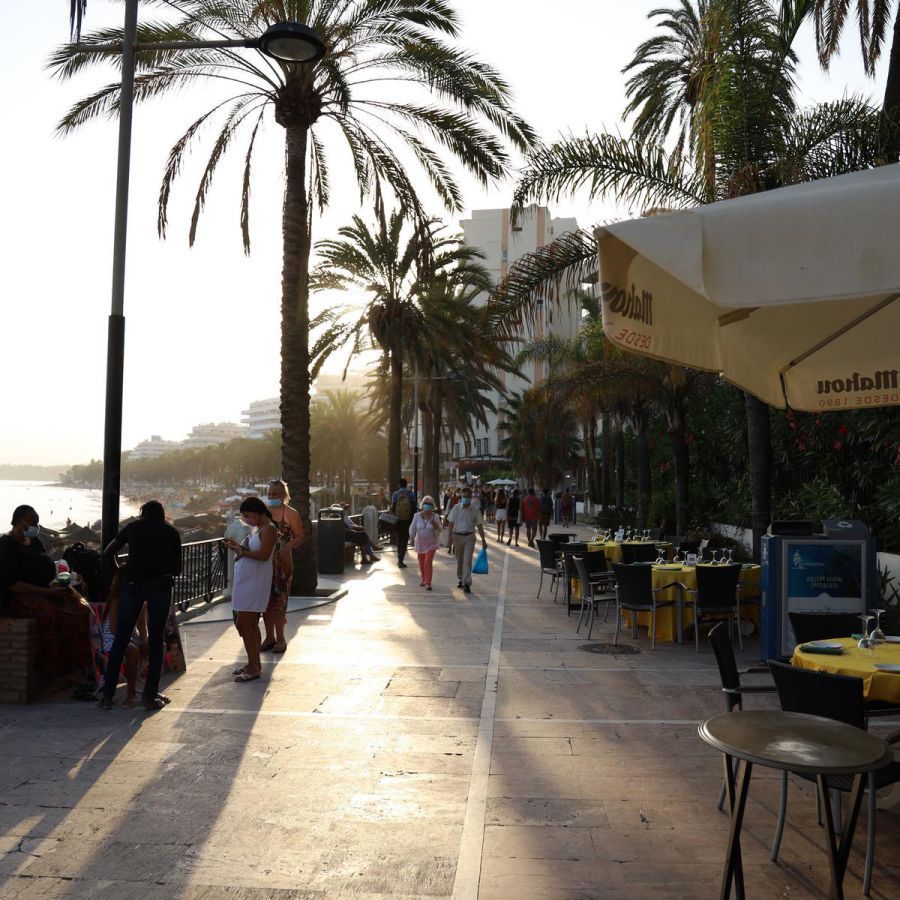 "Some people have two homelands: the country where they were born and the country where they would have liked to live."
Surroundings
Marbella is about 45 minutes from Málaga airport. It is a city with beautiful shops, nice boulevards and a picturesque historic center with cozy squares full of terraces. The famous marina, Puerto Banus, is also located in Marbella. In this marina you will find the best restaurants and shops in the highest segment, think of Gucci, Louis Vuitton, Chloe, Philipp Square, etc.
Cozy atmosphere
The old part of Marbella is a nice place to visit, during the day and especially at night. In the evening the terraces on Patio de los Naranjos are filled and it has a cozy atmosphere with the orange trees that provide the square with a fantastic atmosphere.
When you look at Marbella on the map, it quickly becomes clear that you can play golf at much as you like. Marbella and its surroundings turn green because of the 35 golf courses that are located in or around Marbella.
Living in Marbella
Marbella is an elongated place on the Spanish south coast, from the historical center of the city it covers about 15 kilometers east and 10 kilometers west of the center. It consists of several residential areas, hereafter an overview of the most famous residential areas of Marbella.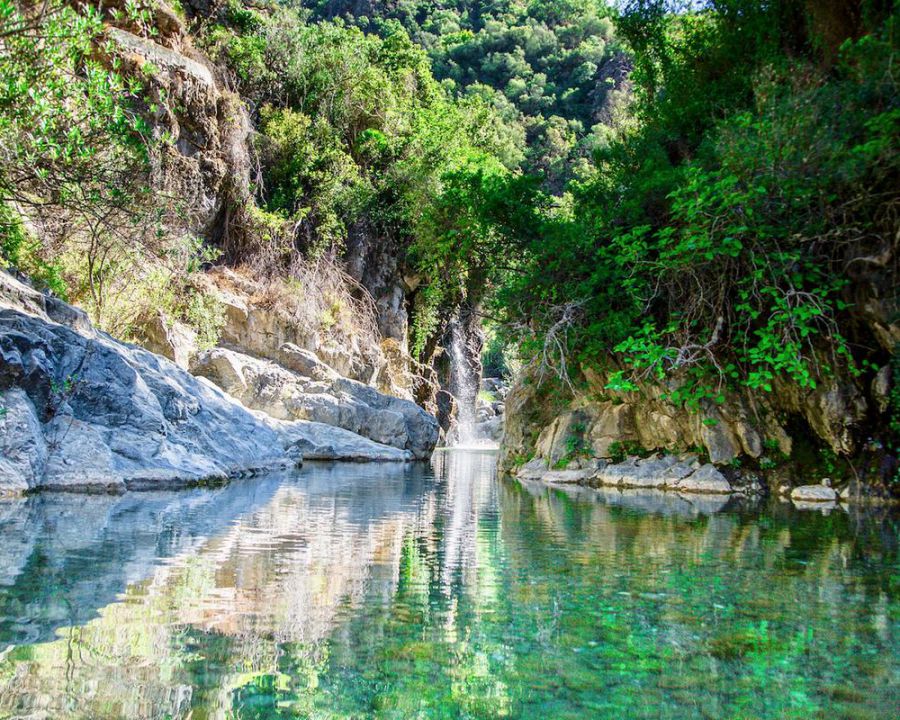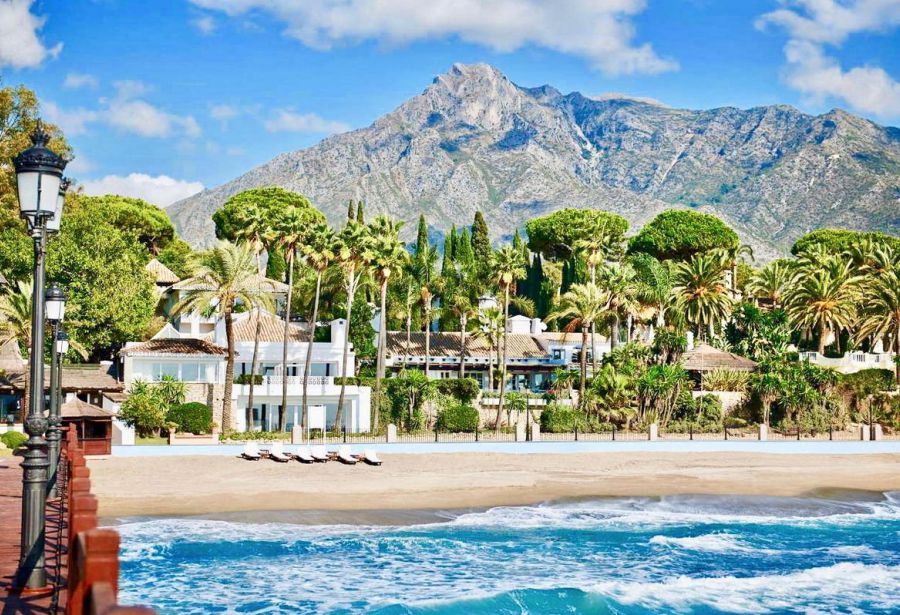 Neuva Andalucia
This district is located west of the historic centre of Marbella and is fully built in traditional andalusian style and design. It is one of the largest residential areas of Marbella. There are about 15,000 people living there but in the summer there are considerably more than in the winter months!
The district is attractive because it is located a short distance from good roads and the historic center is accessible by a short taxi ride, so you can enjoy the nightlife of Marbella in the evening!
The district is made up of different types of houses, on the west side smaller houses have been realized which are built close to each other. In the middle and east of the district you will find spacious detached houses. Apartments and duplex houses have been built on the three golf courses north of the district. The district is made up of various urbanizations such as: Albatross Hill, Vista Real, Señoria de Gonzaga, Lago de los Tortugas, Alimar de Marbella, Sierra Park Club, Los Arrayanes, Aloha Golf Apartments, Aloha Hill Club and Peña Blanca.
On the coast south of this district is the famous beach club Ocean Club located, the beach from the whole district within walking distance!
Another thing you shouldn't miss in this area is the turtle lake of Neuva Andalucia. To the northeast of the district is a huge lake of over 4.5 ha landscaped. A fantastic place to go in the middle of nature and discover different animal species, in summer children can swim in the lake and there are several beaches laid out. Families picnic here all year round, highly recommended!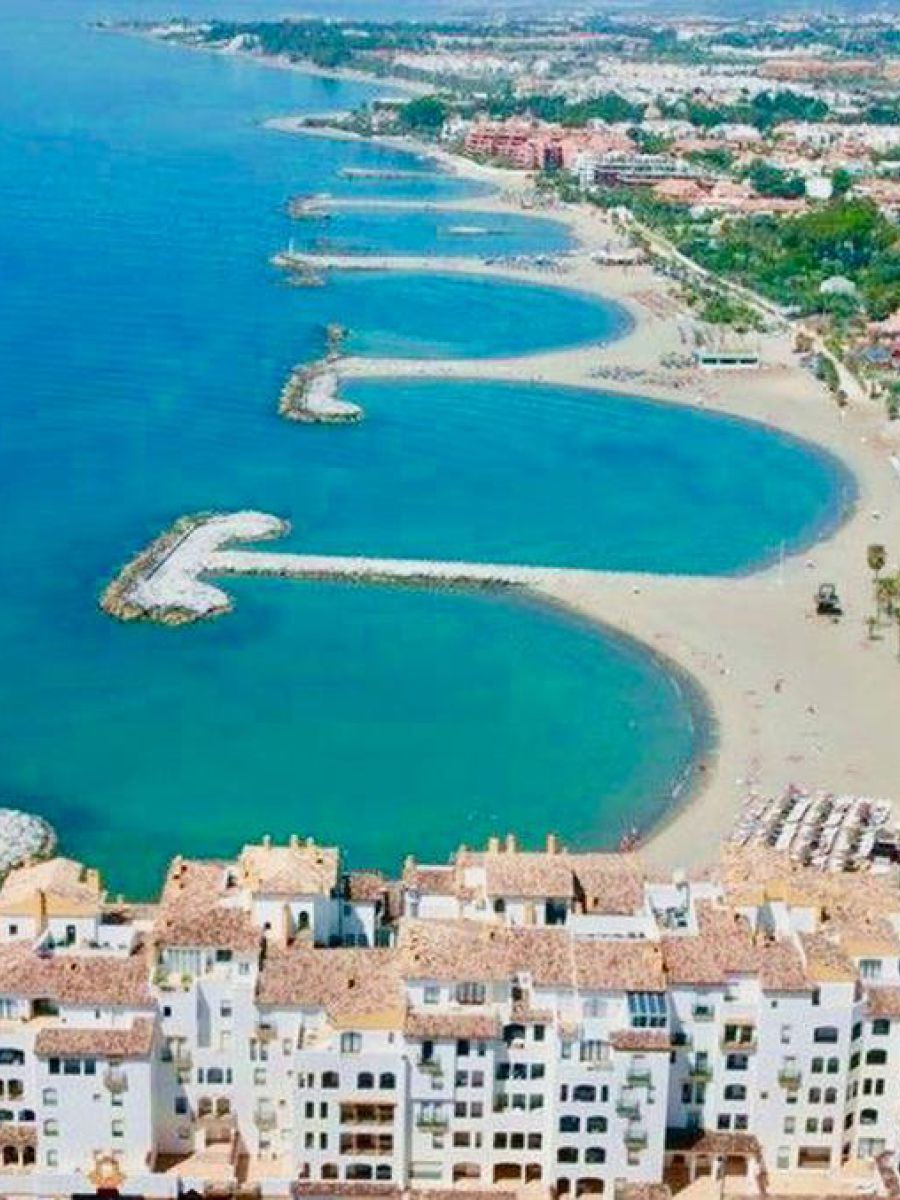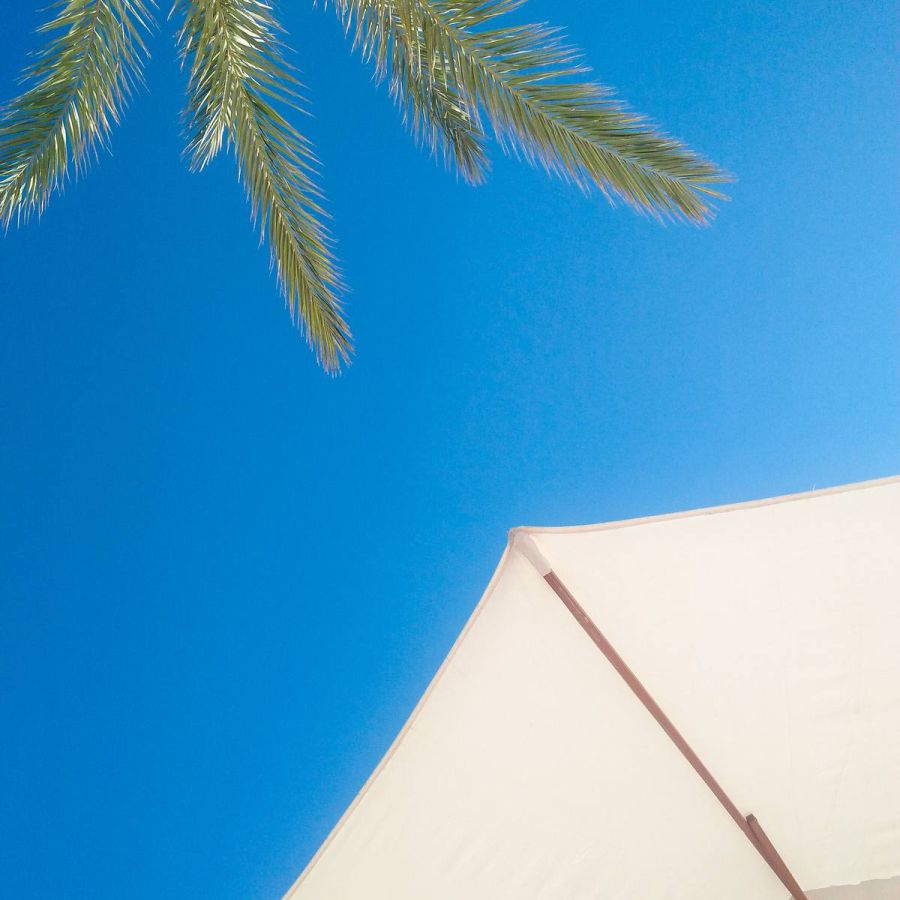 Los Monteros and Elviria
Los Monteros is located just east of the centre of Marbella. This district was created in the 60's by the development of the hotel, golf course and hospital. After that, villa plots were offered and developed. It is therefore a unique villalocation located between the provincial road and the beach. On the beach is the famous beach club La Cabane located. A must for a luxury day out.
The Elviria district is located east of Los Monteros. Elviria is a real beach urbanisation where most homes are within walking distance of the beach. In the district are two good golf courses located, Santa Maria and Santa Clara. On the beach there are several beach clubs, including the famous Nikki Beach. Within the district are all possible types of houses to be found, whether you are looking for an apartment or a detached villa with lots of privacy, everything is here to be found.
Golden Mile
The name says it all, here is luxury living. This district is located between Puerto Banus and the city centre of Marbella. More specifically, from the Marbella Club hotel to the port. Besides exclusive villas and apartments, all conceivable amenities are also present. Everything within walking distance of the beach of course.
These are just a few of Marbella's most important neighborhoods. If you are looking for a property in Marbella we would also like to tell you everything about the entire area.
Hotspots in Marbella
There are many things to do in Marbella, such as a walk from the old town and the many shopping malls for those who want to spend time shopping.
Nice places to visit
The Old Town, the Santo Cristo de la Vera Cruz Church, Ermita del Calvario, the Bonsai Museum, Museo Ralli, Villa Romana de Río Verde, Termas Romanas de Guadalmina, Basílica paleocristiana de Vega del Mar, Yacimient, Phenicio de Río Real, Pecho Redondo Caves, Nagüeles Caves, Bajadilla Beach, Fuerte Beach, Fontanilla Beach.
Beaches
Marbella is one of Spain's most popular holiday destinations, for both foreign tourists and Spaniards. With 27 km of coastline and 23 beaches it is a real pleasure for the enthusiast.
A tip from us: go for a day trip to La Charca del Canalón!
This is not a usual tourist attraction but definitely worth a visit. It is still an almost hidden, local jewel and therefore certainly a recommendation.
The Charca del Canalon is a river with crystal clear water, waterfalls, hidden rock swimming pools and sheltered riverbeds. There is no better place to think of for a family day with a picnic. It is a walk through the river where several river pools have been created where you can swim. In many places the water is deep enough to jump off the rocks, so children will have a fantastic adventurous day. There are also waterfalls and several places where you can quietly enjoy nature, to be short: highly recommendable. Bring your water shoes with you because you can use them during the walk!